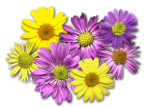 WELCOME
DOSHA WAS HIT by a car near her owner's home on
April 15. Next, a police officer shot her in the head to put
her out of her misery. Then, presumed dead, she was put in
a freezer at an animal control center.
Two hours later, when a veterinarian opened the door
to the freezer, she was shocked to find Dosha, a
10-month-old of mixed breeding, standing upright in a
plastic orange bag - the equivalent of a human body bag.
Appearing on national television Wednesday, Dosha
seemed in fine spirits apart from the gunshot
wound to her head and other injuries sustained from
being hit by the car.
"When she first came in we called her miracle girl
because we couldn't believe what she had gone through and
was still with us," said veterinarian Deborah Sally on NBC's
"Today" show.
"She's doing amazingly well," added Sally, who said
the dog had suffered from hypothermia after being put in the
fridge.
The police chief in Clearlake, Calif., defended the
officer who shot Dosha. Police Chief Bob Chalk says the
officer did nothing wrong when he shot the dog in the head
last week. He says the dog had been hit by a car and was in
pain.
Police say the dog's owner may be cited for letting her
pet run free. The case remains under investigation by police
and Animal Control.

The Associated Press and Reuters contributed to this
story.